Frederick Street Dental Care is one of the few dental clinics in Edinburgh providing dental emergency services 7 days a week. In an emergency immediately call us on  

At Frederick Street Dental Clinic our dental hygienist provides a range of hygiene and stain removal treatments to address tooth discolouration. Now only  £69  for a routine scale and polish with our dental hygienist.

At Frederick Street Dental Care, we are at the forefront of the revolution in new dental
technologies. We integrate a number of different technologies into our practice to create a faster and more comfortable  experience for our  patients.
Welcome to Frederick Street Dental Care
Located in the heart of historic Edinburgh City Centre, Frederick Street Dental Care offers a comprehensive array of dental services.  From general dentistry, such as Teeth cleaning, Dental check-up, Dental filling, Dental crowns , Root canal treatment, Wisdom Tooth Removal to cosmetic procedures, including Invisalign, Teeth whitening, and Computer-guided ceramic fillings ;  Frederick Street Dental Care provides the highest level of dental Care.
The convenient Edinburgh City Centre location also makes Frederick Street Dental Care the perfect choice for quick and professional service during the workweek.  By combining quality patient care with up-to-date technology, we are able to treat patients of all ages in a comfortable and relaxing setting.  We work in a team consisting of General Dentists, Specialist Orthodontist, Specialist Oral Surgeon and Dental Hygienists.
Frederick Street Dental Care is a family friendly clinic with an excellent reputation. We have great clinical and people skills. This legacy of reputation comes with responsibility. A responsibility to treat people with respect, dedication, excellence, and compassion.
See why our patients think that Frederick Street Dental Care is the best Edinburgh Dentist for them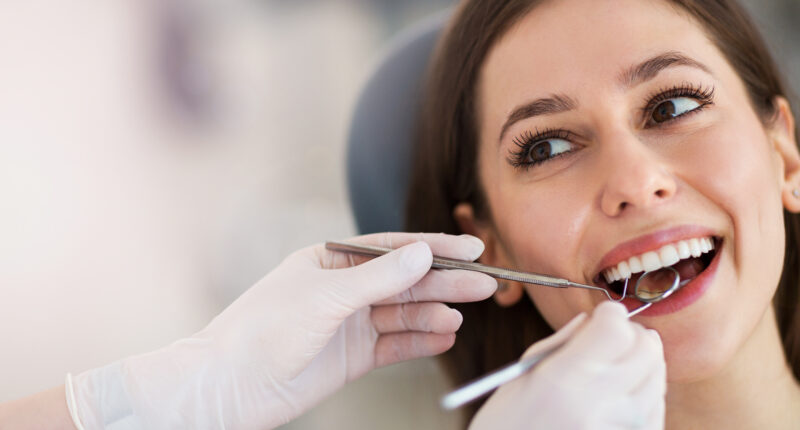 Nervous and Anxious patients
We welcome nervous and anxious patients to our dental clinic. Our dentists and staff offer relaxing, calm and sympathetic chairside manners to mitigate stress and anxiety of our patients.
Dr Eleni Besi (Oral Surgeon)
Consultant and Hon Senior Clinical Lecturer in Oral Surgery
Edinburgh Dental Institute (University of Edinburgh)
Frederick Street Dental Care is the one of few clinics in Edinburgh offers speciality oral surgery services. Our Clinic  is a centre of excellence where you will be treated with compassion and unparalleled care by our specialist oral surgeon Dr Eleni Besi, who combines her broad-based experience with  state-of-the-art technology.
Our private Wisdom Tooth Extraction service is available 7 days a week, both to patients registered with the practice and to new patients. Other dental practices routinely refer patients who require urgent complex teeth extractions to our clinic for treatment. Frederick Street Dental Care is open 7 days a week. You can book an appointment by calling us on  0131 629 1158  and if necessary, have the teeth removed on the same day.

Invisalign braces in Edinburgh- Invisalign is almost invisible way to straighten your teeth without wearing conventional metal braces. We, in Invisalign Edinburgh uses a series of clear, removable custom-made aligners to move your teeth. You get personalized treatment
    
 
What a great service .I was seen immediately on Saturday and my wisdom tooth was removed on the same day. Reception girls were very helpful. Thank you guys for fitting me in when other clinics refused to see me on Saturday .
I am a very nervous patient and i was terrified to have root canal treatment as told by my friends but Dr Muhammad made me feel in safe hands and the treatment was excellent. He was so kind and professional. and the girls were so nice. A very good experience. Also i got an emergency same day appoinment on Saturday. i recommend it to every one.
I was in agony over the weekend, called Frederick Street Dental Care and was seen immediately. The dentist started the root canal treatment on the same day and got me out of pain. I highly recommend this clinic to everyone. Great service!
Outstanding treatment, professional and friendly staff, high tech equipment, such a clean and well organized clinic. I went for my front teeth fillings and dentist did an amazing work. And am so happy i got registered with them on NHS and they provide same treatments on NHS just like private. I am recommending to all.
Would have no hesitation in recommending this clinic. This is an amazing place, so clean and high tech. Dentists and the team are very professional, caring and friendly. I needed extractions of two of my teeth ,one of it was wisdom tooth , called them in emergency and got one extracted same day, and the other in same week by consultant oral surgeon in same clinic . Both procedures were pain free. Highly recommend.