PORCELAIN VENEERS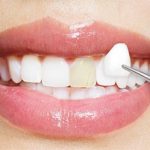 Porcelain veneers are thin pieces of porcelain used to recreate the natural look of teeth, while also providing strength and resilience comparable to natural tooth enamel. It is often the material of choice for those looking to make slight position alterations, or to change tooth shape, size, and/or colour.
Have you got chipped, cracked, discoloured, worn, crooked or gaps in your teeth? Porcelain veneers could be an ideal solution to brighten and rejuvenate your teeth and smile.
Frederick Street Dental Care can offer truly beautiful, long-lasting and natural looking porcelain veneers often in two to three weeks. We invite you to experience our no obligation cosmetic consultation to help guide, educate and confirm if porcelain veneers are right for your unique situation.
WHY PORCELAIN VENEERS?
Porcelain veneers are a very strong and thin customised shells of high-grade pure porcelain. Once they are securely bonded to the visible surface of your tooth they are almost indistinguishable from real teeth. The results they offer are often spectacular. Porcelain veneers can vastly improve your teeth and smile particularly if your teeth are:
Slightly Crooked, Uneven or Gaps Between Teeth:

Although orthodontic treatment such as braces or Invisalign (straight teeth – no braces) could be an option, this choice is not something everyone wants. Porcelain veneers, however offers a very fast turn-around time of 2 to 3 weeks compared to orthodontic treatment that can take from 6 to 18 months on average.

Aging Teeth or Wear and Tear:

Worn, chipped or aged teeth can look amazingly rejuvenated.

Badly Discolored Teeth:

Whitening does not always work or may need too much maintenance. An example of badly discoloured teeth is if you had tetracycline antibiotics as a child. The discoloration can penetrate very deep into the enamel layers and is often difficult to remove with whitening alone.

Malformed Teeth:

Such as unusually shaped, defective tooth enamel or spots on teeth are vastly improved.

Tooth Whitening:

For some people, superficial stains do not respond well to tooth whitening or bleaching. In these situations, a porcelain veneer may be the best option

Trauma:

Fractures, cracks or broken teeth due to trauma are often effectively treated
HOW CAN I GET VENEERS TREATMENT?
Not everyone has a perfectly straight, shiny smile for varying reasons, such as the way your teeth came in, damage resulting from an accident or poor oral health. However, your dentist has multiple tools to help you obtain that desired smile.
Veneers
are one of these options that correct tooth deficiencies. But how do
veneers
work?
It starts with booking free consultation and visiting

Frederick Street Dental Care

and asking about veneers is the first step in determining if veneers are the right option for you, or if there are alternate solutions available. Communication with your dentist about what you want corrected is critical for a successful result. Spend time clearly identifying what cosmetic improvements you want to accomplish.
Your dentist will let you know if you are a good candidate for minimal preparation or "no-prep" veneers and if this option makes a sensible treatment plan.
Your dentist will most likely begin with a smile analysis to determine what steps are necessary to achieve the smile you desire. In addition, your dentist may create a diagnostic mock-up that will allow you to "try on" veneers and other procedures to see if the final result is actually what you're looking for
Your dentist may also show you a photo of how your new smile will look. This is called cosmetic imaging
Deciding that porcelain veneers will create the look you want is only one step in the process. There is much more to learn before proceeding further
After your cosmetic consultation, only two visits are usually required. These visits are usually two to three weeks apart. As a we use high quality made porcelain, the entire procedure is completed in a very short period
What to Expect During a VENEER Procedure
Your dentist will remove a small amount of the tooth surface to permit placement of the veneer
An impression is taken of the tooth and sent to the dental laboratory
The dental veneer is then made to fit the tooth and mouth
The veneer is bonded to the tooth with resin cement once it has returned from the lab
The Benefits of Porcelain Veneers
Since veneers are individually sculpted for each patient, it is nearly impossible to tell the difference between a veneer and a natural tooth. Unlike natural teeth, custom-made veneers resist coffee and tea stains, and cigarette smoke because they are made of high-tech materials.
With veneers—as opposed to crowns—your natural teeth remain largely intact with only a minimal amount being altered to fit the veneer.
For teeth that resist whitening, veneers can make even the darkest teeth appear bright white.
Veneers can quickly fix minor twists, overlaps, and small gaps.
Potential Veneer Downsides
Because a portion of the original tooth enamel is reduced, a veneer is not considered a reversible treatment. Although adjustments and even new veneers can be made, you can never reliably return to the original condition of the tooth.
After the porcelain veneers are attached you will probably have some sensitivity to hot and cold temperatures due to the removal of that thin layer of enamel. This typically disappears within a few days.
In a healthy mouth properly treated with porcelain veneers—and where destructive forces are minimized or eliminated—a patient should be able to use porcelain veneers like his or her own teeth. Although they're very strong, veneers are also brittle. You should avoid the same excessive stresses you would avoid with non-veneered teeth: don't bite your fingernails, chew ice, or open beer bottles with your veneers!
Cleaning & Maintaining Porcelain Veneer
At Frederick Street Dental Care, we will teach you simple ways to maintain and care for them to make sure they last as long as possible.
Maintaining porcelain veneers is actually quite simple: Treat them as you would your original teeth, with routine brushing and flossing. Using non-abrasive fluoride toothpaste will typically be suggested by your dental professional.
One week after your veneers are placed, you will be required to return to the office for a follow-up visit and evaluation so the dentist can see how your mouth is reacting to the veneers. Even if you feel the veneers are a success, this appointment is vital to your future oral health.
If you have a habit of grinding or clenching your teeth, your dentist may fit you with a night time bite guard so you do not damage your veneers.
You should also return to your dentist for regular professional maintenance because porcelain veneers should be polished with a specially formulated, non-abrasive paste, and because your dentist needs to inspect your dentistry for any sign of potential failure.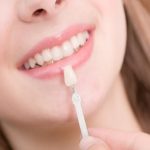 Pay With 0% Dental Finance
We provide 12 Months
0% Finance
on all Cosmetic treatments over £1000 allowing you to spread the cost of your treatment
without interest without interest and can start your treatment now
or you can
Pay As You Go
for the cost of your treatment. Finance can be arranged within a few hours during normal office hours by sending the completed application form to Braemar Finance
Frederick Street Dental Care
is
Open 7 Days a Week,
so that you can have your Cosmetic Treatment without having to take time off from office. Book a
FREE COSMETIC CONSULTATION
by calling us on
0131 629 1158
or
emailing us.