Snap-On Smile – For Instant Perfect Smile
No Drilling, No Shots & No Change in Tooth Structure
---
The Snap-On Smile is a revolutionary cosmetic dental appliance that requires no cutting down of tooth tissues and no dental injections, easy and painless way to obtain a beautiful smile. They are thin, strong and look like natural teeth. It is easily removable, completely reversible and temporary dental appliance that can improve a patient's smile. They fit securely and comfortably over your own teeth giving you the perfect smile. Snap-On Smile uses a slightly flexible resin material that slips over the teeth and stays on while the patient eats, smiles and speaks.
Snap-On Smile is available in a number of shades, shapes and sizes. Our dentist will work with you to determine the best fit for you so that it looks natural and feels comfortable. Because Snap-On Smile is completely tooth-supported, there is no gum impingement and no covering of your palate (roof of your mouth).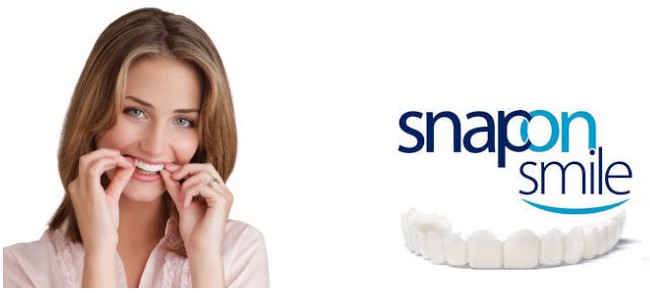 WHAT YOU NEED TO KNOW ABOUT SNAP ON SMILE
The Snap-On Smile is a thin (but strong) temporary or permanent cosmetic solution that is made of a hi-tech dental resin, which snaps onto your own teeth.
Why would I want to have a Snap-On Smile?
Snap-On Smile can be the perfect treatment for you if you want a Hollywood Smile at a fraction of the cost! The Snap-On Smile is the excellent choice and perfect cosmetic treatment for:
Crooked teeth
Gaps
Stains
Missing teeth
Those who are not candidates for bridges or implants
If you generally want to improve the overall aesthetics of your teeth
Anyone who would like a Hollywood smile without the expense and discomfort of complex and invasive dental procedures
Anyone who has an old-fashioned removable partial denture and wants a beautiful, more comfortable alternative
Snap-On Smile is an affordable and life-changing solution for people of all ages. Getting a Snap-On Smile simply requires two, short, painless visits with no drilling, no shots and no change in tooth structure.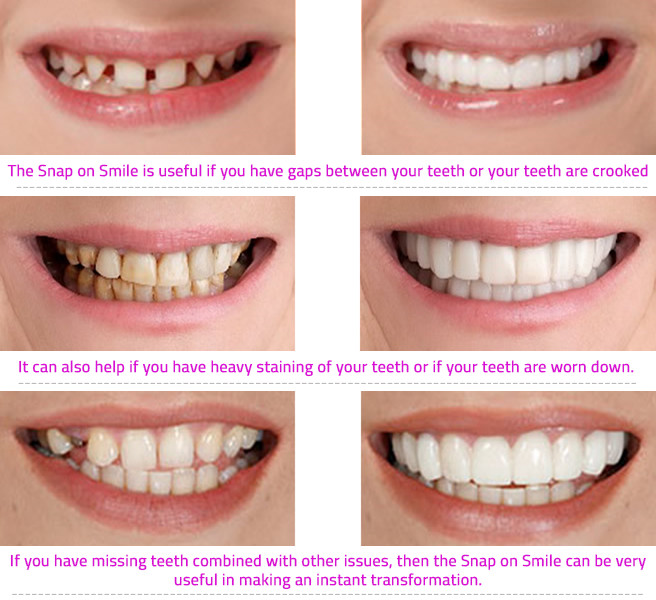 How quickly can I have a Snap-On Smile?
Snap-On Smiles can have an extremely quick turnaround, giving you a new beautiful, perfect Smile in a month!
Does the Snap-On Smile Procedure Hurt?
The
procedure is completely painless. Dentist needs to take an impression of your teeth. It requires no shots, no drilling and no removal of your natural tooth structure.
Will Snap-On Smile affect my

Speech?
There will be a temporary adjustment period as you get used to having something new in your mouth. This is very common and most people report that their speech is back to normal within 2 weeks. Wearing the Snap-On Smile all day will allow you to return to your normal speech much quicker.
Will Wearing the Snap-On Smile Damage My Natural Teeth?
No. The Snap-On Smile has been carefully designed to improve the overall aesthetics of your Smile, without compromising your natural teeth.
I have sensitive teeth. Will Snap-On Smile work for me.
Yes.
Is there any age requirement for Snap-On Smile ?
People of all ages are using Snap-on Smile. If you are concerned about age requirements, please discuss this with your dentist.
Does Snap-On Smile Only Cover My Front Teeth, Both Top and Bottom?
Snap-On Smile is designed to cover your entire upper arch or bottom arch. You will work with your dentist to finalize the best smile make-over for you
Is Snap-On Smile like Wearing
Dentures?
Snap-On Smile is removable and simply snaps in and snaps out. It is held in place by your natural teeth and does not require adhesives or glue, of any kind.
Will Snap-On Smile Stain?
Snap-On Smile does not stain easily, but just like your natural teeth, certain products such as coffee, wine or soda can cause staining. Your Snap-On Smile comes with a cleaning kit to help you maintain its wonderful appearance.
Do I need special cleaners or toothpaste?
There is a cleaning solution for your Snap-On Smile included when you first receive your Snap-On Smile. Refills are available through your dentist and instructions are printed on the back of the bottle
Can I chew
gum while wearing Snap-On Smile ?
It is not recommended that you chew gum or eat sticky foods with your Snap-On Smile, however you can eat and drink most food and beverages with it in as you normally
w
ould.
How long will my Snap-On Smile
last?
Snap-On Smile comes with a 12-month limited warranty against manufacturing defects. Snap-On Smile can be used as a short or long-term provisional solution, but it is ultimately based on your treatment protocol recommended by your Snap-On Smile dentist. He will show you how to look after your new Smile correctly and you will enjoy millions of smiles with Snap-On Smile.
Will I need to get replacements
for my Snap-On Smile ?
The Snap-On Smile appliance is expected to last several years with proper care. This is the same length of time as other removable appliances such as partial dentures, brux guards, or night guards.
How Much Does It Cost?
Snap-on Smile costs £1495 per arch. At Frederick Street Dental Care, you can have your Snap-on Smile treatment now and spread the cost of your treatment interest free with our 0% Dental Finance Plan.
What to Expect During a Snap-On Smile Procedure
No drilling, No shots and No change in tooth structure, it's easy, it's painless and you can start today.
Book your free cosmetic consultation. During your first brief appointment, the dentist will determine if you are a candidate and, if you are, he will take impression of your existing teeth to be sent to the dental laboratory . You choose from different smile shapes and shades for your Snap-On Smile. At the 2nd appointment, a few weeks later, you will receive your new Snap-On Smile and your dentist simply ensures proper fit and placement and makes any adjustments needed – you'll actually walk out wearing your beautiful new smile.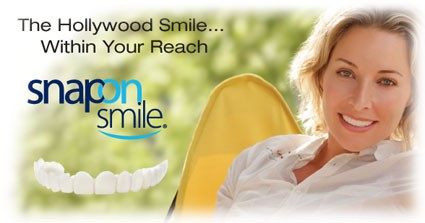 Frederick Street Dental Care is Open 7 Days a Week, so you can have a dental appointment without having to take time off work. You can book an appointment by calling us on 
0131 629 1158
 or 
emailing us.
Opening Hours
Monday : 09:00AM-06:00PM
Tuesday : 09:00AM-08:00PM
Wednesday : 09:00AM-06:00PM
Thursday : 09:00AM-06:00PM
Friday : 09:00AM-10:00PM
Saturday: 09:00AM-10:00PM
Sunday: 10:00AM-04:00PM